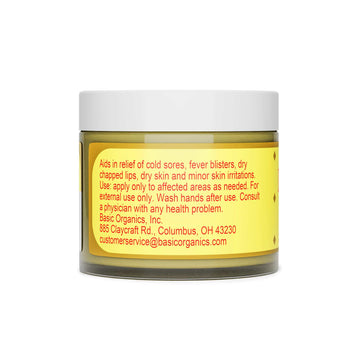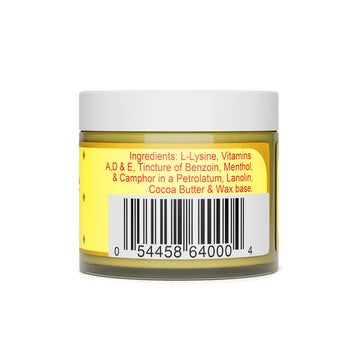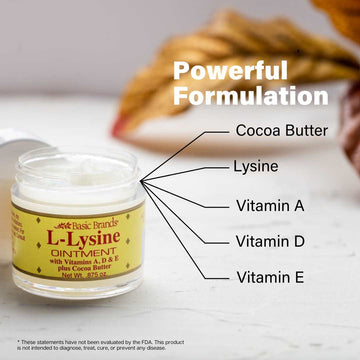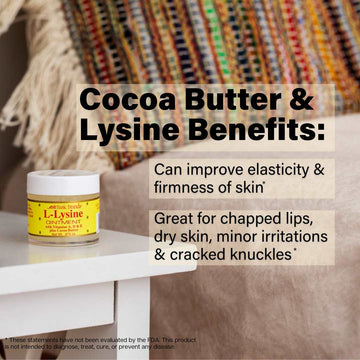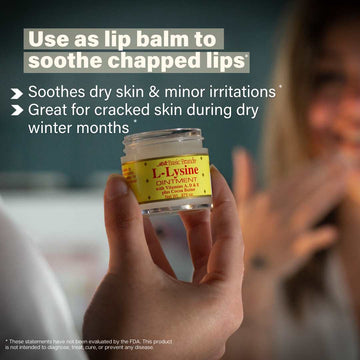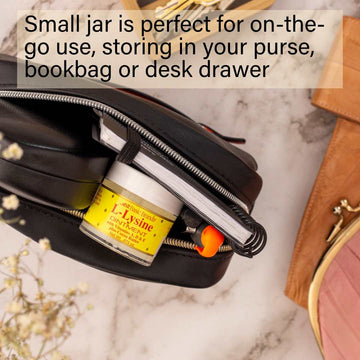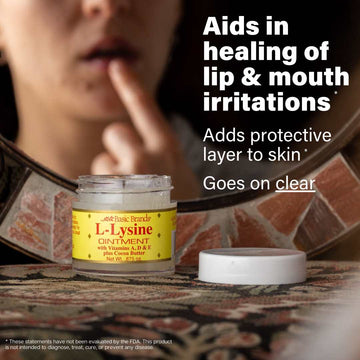 Charges may apply for international shipping.
Additional discounts cannot be combined with subscriptions.
Description & Details
Basic Brands L-Lysine Ointment, made with Vitamins A, D and E, provides a protective layer to the skin which aids in healing.* The ointment helps to relieve and soothe cold sores and fever blisters. It goes on clear and doesn't contain alcohol like other leading cold sore creams.* The vitamin-rich ointment also helps to build collagen, helping to improve the elasticity and firmness of the skin.* The ointment's ingredients work together to provide various benefits to the skin. Vitamin A helps to stimulate the skin cells, Vitamin D and Lysine help to soothe and Vitamin E and cocoa butter provide moisture. Together, these ingredients make the L-Lysine Ointment the perfect topical for chapped lips, dry skin and minor skin irritations. Use on the skin during dry months, especially during the winter when skin, lips and knuckles become dry and cracked. Basic Brands L-Lysine Ointment comes in a 0.875 oz jar making it great for on-the-go use, storing in your purse, bookbag, carry on, car or desk drawer.

• Relieves and soothes cold sores and fever blisters; goes on clear and is discrete

• Great for chapped lips, dry skin and minor skin irritations; helps build collagen to improve skin elasticity and firmness*

• Made with skin cell stimulating Vitamin A, soothing Vitamin D and Lysine, and moisture enhancing Vitamin E and cocoa butter*

• To use: 1) Wash and clean hands with soap or sanitizer; Remove contact lenses before use 2) Unfold wipe and wrap over fingers 3) Close eye and wipe over eyelid to cleanse, moving side to side 4) Repeat other eyelid

• Includes one 0.875 oz jar; Manufactured in the USA

SUGGESTED USE:

To apply, open the lid and gently rub fingers over the surface to pick up ointment and then apply to desired area. For larger areas, scoop product for easier application.

KEEP OUT OF REACH OF CHILDREN.

Use only if bottle is sealed.

WARNING:

Do not exceed recommended dose. Pregnant or nursing mothers, children under the age of 18, and individuals with a known medical condition should consult a physician before using this or any dietary supplement.

* These statements have not been evaluated by the FDA. This product is not intended to diagnose, treat, cure, or prevent any disease.
I used this a long time ago and the I couldn't find it. I use it for fever blisters and when I don't have one. I apply it at night. And when I get up in the morning my lips are so soft.
SUPERB!
This balm is a godsend. Heals a cold sore fast!!