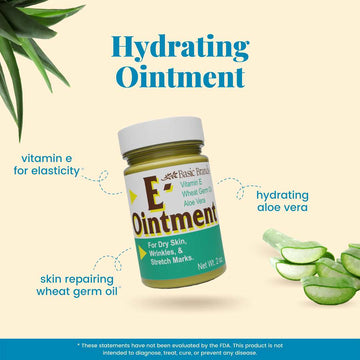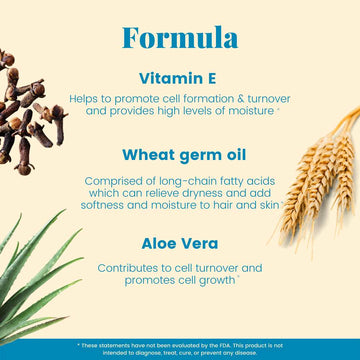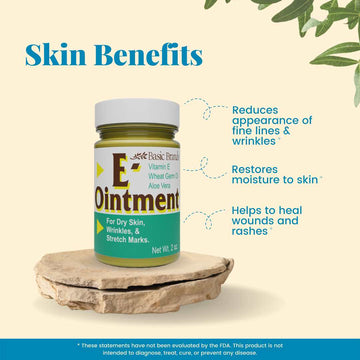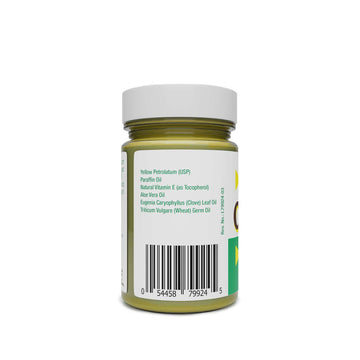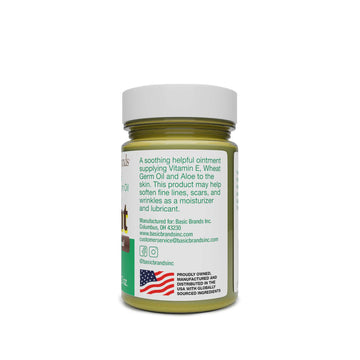 Charges may apply for international shipping.
Additional discounts cannot be combined with subscriptions.
Description & Details
Vitamin E is a natural antioxidant that protects tissue from damage caused by free radicals. Basic Brands Vitamin E ointment includes moisture enhancing Vitamin E, aloe vera, and skin repairing wheat germ oil.

Vitamin E ointment has many benefits to skin, including helping to reduce the appearance of fine lines, wrinkles and sun spots, increasing and restoring moisture to your skin to help improve elasticity, is beneficial for rashes, helps reduce the appearance of stretch marks, and more.* It also helps to strengthen brittle nails and improves the health of hair.* Our Vitamin E Ointment can also be used in one's nightly skincare routine to remove makeup.

• Contains vitamin E, wheat germ oil and aloe vera; petrolatum base creates protective barrier over skin and does not clog pores* 

• Helps reduce appearance of fine lines, wrinkles, dark spots and stretch marks*

• Perfect for slugging skincare routine; helps restore moisture to skin, beneficial for rashes; strengthens brittle nails, removes makeup*

• Non-GMO; no phthalates, propylene glycol, sulfates or dyes

• Includes one 2 oz bottle; manufactured in the USA, produced in small batches

SUGGESTED USE:

To apply, open the lid and gently rub fingers over the surface to pick up ointment and then apply to desired area. For larger areas, scoop product for easier application.

KEEP OUT OF REACH OF CHILDREN.

Use only if bottle is sealed.

WARNING:

Do not exceed recommended dose. Pregnant or nursing mothers, children under the age of 18, and individuals with a known medical condition should consult a physician before using this or any dietary supplement.

* These statements have not been evaluated by the FDA. This product is not intended to diagnose, treat, cure, or prevent any disease.
Basic Brands Vitamin E Ointment, Clove
Long time user
My mother has used this for over 10 years. She uses it every night. She loves it and will continue to be a dedicated customer for years to come.
ALMOST 5 STARS
The product is the best! The delivery time would have been wonderful if the product had not been dropped off at the wrong shipping office. The package was dropped off at the United States Postal Service Office when I paid for direct shipping online. The US postal service charged me an added fee for them to deliver it. Not a charge that I was expecting after paying for shipping online. The review would have been 5 stars, if I did not have to pay for shipping again, when it was not my fault.