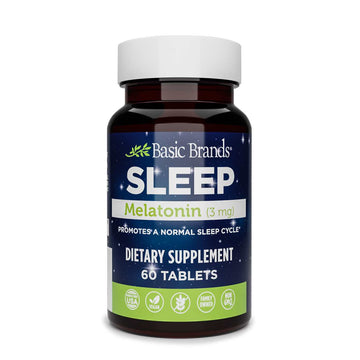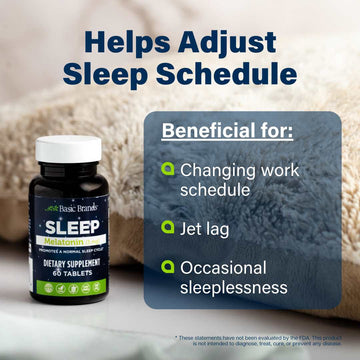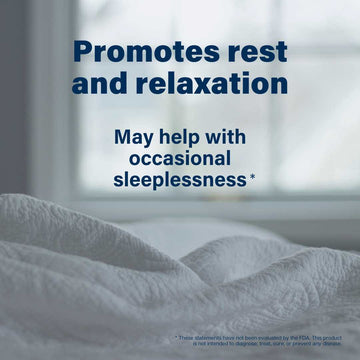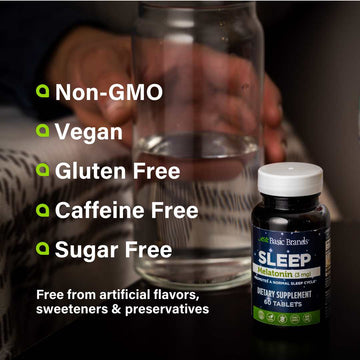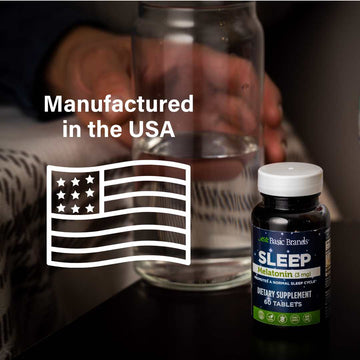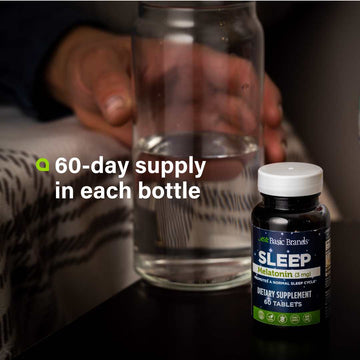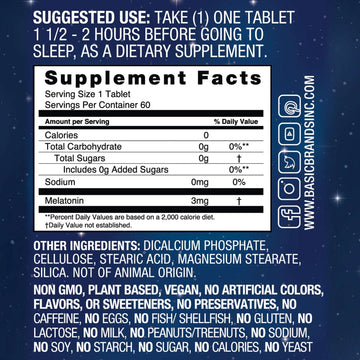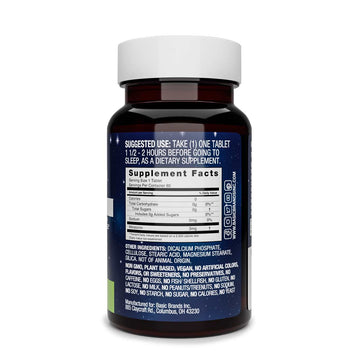 Charges may apply for international shipping.
Additional discounts cannot be combined with subscriptions.
Description & Details
Promote rest and relaxation with Melatonin.* Your body typically produces more melatonin when it is dark which signals it to go to sleep. This hormone promotes a natural sleep cycle, and many can see benefit by taking supplements.* Melatonin helps you adjust your body's internal clock and may aid with occasional sleeplessness, jet lag, or assist with a changing sleep schedule needed for work or school.* 

Basic Brands SLEEP Melatonin is 100% drug free.

• Melatonin promotes rest and relaxation and may help with occasional sleeplessness

• May help adjust your sleep cycle; helpful for changing work schedule, jet lag or occasional sleeplessness*

• Melatonin is a hormone produced by the body; tablet is drug free, contains 3mg melatonin

• Non-GMO, gluten free, sugar free, caffeine free; no artificial flavors, colors, sweeteners or preservatives

• Includes one bottle, 60 tablets each; Manufactured in the USA

SUGGESTED USE:

Adults take (1) one tablet 1.5 - 2 hours before going to sleep, as a dietary supplement.

KEEP OUT OF REACH OF CHILDREN.

Use only if bottle is sealed.

WARNING:

Do not exceed recommended dose. Pregnant or nursing mothers, children under the age of 18, and individuals with a known medical condition should consult a physician before using this or any dietary supplement.

* These statements have not been evaluated by the FDA. This product is not intended to diagnose, treat, cure, or prevent any disease.
Ciao, Insomnia
Finally, I'm no longer a nocturnal animal.