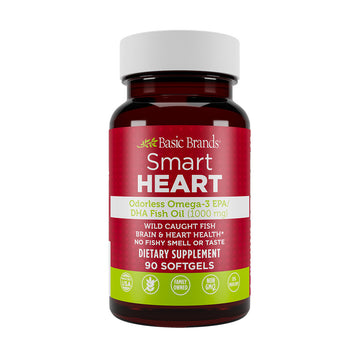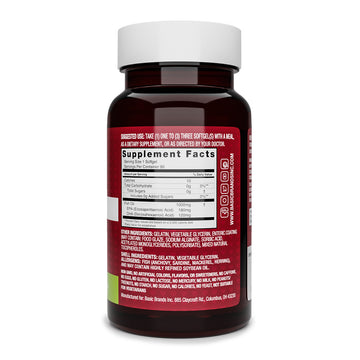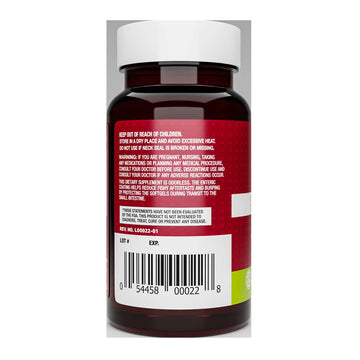 Charges may apply for international shipping.
Additional discounts cannot be combined with subscriptions.
Description & Details
Basic Brands SMART HEART Odorless Omega-3 EPA/DHA Fish Oil only comes from wild caught fish and is purified to eliminate mercury. The high-quality ingredients include Omega-3 EPA and DHA fatty acids which are sourced from fish and shellfish. Each softgel includes 1000 mg of a blended ratio of EPA to DHA, and has more health benefits than the ALA Omega-3 found in flaxseed.
Support a healthy heart without the fishy smell and aftertaste.* Manufactured and quality tested in the USA, SMART HEART Omega-3 is non-GMO, gluten free, caffeine free, sugar free, third-party purity tested and contains no artificial flavors, colors or sweeteners. The softgels also contain no milk/lactose/eggs or tree nuts/peanuts.
Omega-3 EPA & DHA fatty acids sourced from wild caught fish and shellfish - no fishy smell or aftertaste
Supports a healthy heart, cognitive function and bone density*
Powerful antioxidant; made with naturally derived electrolytes and 7 B vitamins
May help to boost bone density*
May help to improve cognitive brain function and may help lower the risk of depression and anxiety*
Offers more potent health benefits than ALA Omega-3 found in flaxseed
Purified to eliminate mercury 

Each bottle contains 50 softgels
Pharmaceutical Grade Ingredients – High Quality

Manufactured in the USA 
ALLERGEN & DIETARY INFO
Non-GMO
Gluten Free
Caffeine Free
Sugar Free - No Calories
3rd Party Purity Tested
No Artificial Colors

No Artificial Flavors
No Artificial Sweeteners
No Yeast/Starch
No Milk/Lactose/Eggs
No Shellfish
No Tree Nuts/Peanuts
Not Suitable For Vegetarians
SUGGESTED USE:
Adults take (1) one to (3) three softgels with a meal, as a dietary supplement, or as directed by your Doctor.
OTHER INGREDIENTS:
Gelatin, Purified Water, Glycerin, Pectin, Sorbitol, Mixed Tocopherols.  SHELL INGREDIENTS: Gelatin.  ALLERGENS: Fish (Wild Salmon, Anchovy, Sardine, Mackerel), May Contain Highly Refined Soybean Oil.  
KEEP OUT OF REACH OF CHILDREN.
Store in a cool, dry place away from sunlight.  Do not use if neck seal is broken or missing.
WARNING:
If you are pregnant, nursing, taking any medications or planning any medical or surgical procedure or have any medical condition, consult your Doctor before use.  Discontinue use and consult your Doctor if any adverse reactions occur.  Not intended for use by persons under the age of 18.
* These statements have not been evaluated by the FDA.  This product is not intended to diagnose, treat, cure, or prevent any disease.