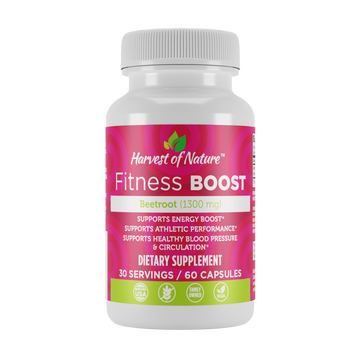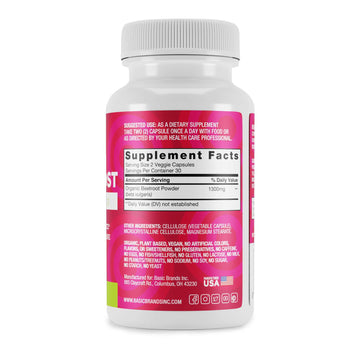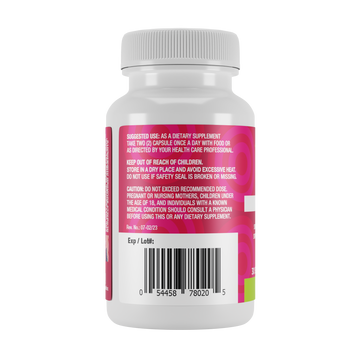 Charges may apply for international shipping.
Additional discounts cannot be combined with subscriptions.
Description & Details
Beets have many benefits to the body and are packed with natural antioxidants. This superfood contains nitrates which are converted to nitric oxide and cause blood vessels to dilate, and in turn, increase blood flow. Increased blood flow has cardiovascular benefits, including improved blood pressure, as well as benefits for endurance. As blood flow increases, so does the flow of oxygen delivered to muscles. With more oxygen is more endurance and a decrease in soreness and recovery time. Beetroot powder provides a natural caffeine-free energy boost which is helpful for the midday/afternoon slump or as a pre-workout.
Made with high quality pharmaceutical grade ingredients

Beetroot powder with 1300 mg per serving; convenient capsule form is packed with non-GMO nitrates and natural antioxidants

Beetroot powder helps increase blood flow and may improve blood pressure*; beets contain nitrates which are converted into nitric oxide and cause blood vessels to dilate

Helps improve endurance for aerobic exercises through an increase in oxygen delivered to muscles, also decreasing recovery time and soreness after exercise*; Provides natural caffeine-free energy boost for midday slump or before a workout

Vegan, non-GMO, allergen free (top 8), gluten free, caffeine free, sugar free; Free from artificial flavors, colors, sweeteners and preservatives

Each bottle includes 60 capsules
Quality tested in the USA
Manufactured in the USA
ALLERGEN & DIETARY INFO:
Vegan - Plant-Based
Non-GMO
Gluten Free
Caffeine Free
Sugar Free
Sodium Free
No Artificial Colors
No Artificial Flavors
No Artificial Sweeteners
No Preservatives
No Allergens
No Soy
No Yeast
No Starch
No Fish/Shellfish
No Milk/Lactose/Eggs
No Tree Nuts/Peanuts
SUGGESTED USE:
As a dietary supplement, take two (2) capsules once a day with food or as directed by your healthcare professional.

OTHER INGREDIENTS:
Cellulose (Vegetable Capsule), Microcrystalline Cellulose, Magnesium Stearate.

KEEP OUT OF REACH OF CHILDREN.
Do not use if clear safety seal around bottle neck is broken or missing.  Store at room temperature, in a dry place.

WARNING: 
Do not exceed recommended dose.  Pregnant or nursing mothers, children under the age of 18, and individuals with a known medical condition should consult a physician before using this or any dietary supplement.

 * These statements have not been evaluated by the FDA.  This product is not intended to diagnose, treat, cure, or prevent any disease.