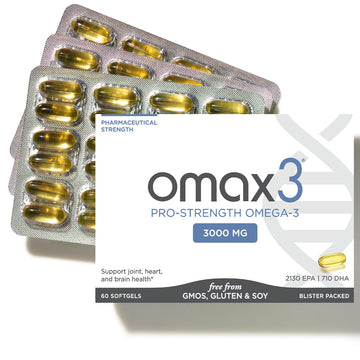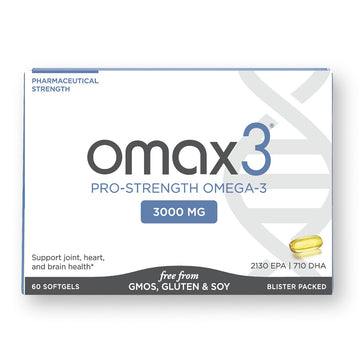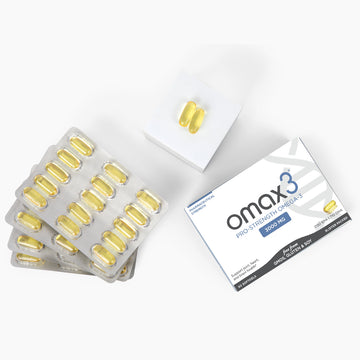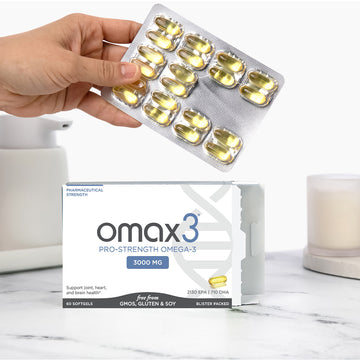 Charges may apply for international shipping.
Additional discounts cannot be combined with subscriptions.
Description & Details
Professional strength omega 3 fish oil with high EPA ratio designed to fight inflammation while supporting healthy joints. Our state of the art Supercritical CO2 extraction removes unhealthy saturated fats and other toxins. Individually blister packed for freshness. Soy Free, Gluten Free, Non-GMO, No artificial colors or fillers.  1000 mg omega-3 per softgel. 60 softgels per box.
What is it?
Highly concentrated omega 3 supplement with high EPA for inflammation support, joint health and muscle recovery. Contains 1000 mg of omega 3 per softgel. 60 softgels per box.
How does it work? 
Adults, take three softgels per day, preferably with meals, or as recommended by your healthcare practitioner. For best results, combine with Omax high-potency Vitamin D. 
Benefits
3000 mg of omega 3 from wild-caught anchovies & sardines in each serving (3 softgels).
Support joint, heart, brain, mood, skin, healthy aging & vitality
Provides high levels of EPA to target inflammation, joint health & muscle recovery.
Gluten Free, Soy Free, Non-GMO, No Artificial Flavors, Colors or Preservatives.
Blister packed for freshness without refrigeration.
60 softgels per package